Travel to Canada: Everything You Need to Know Now
The Government of Canada has updated its travel guidelines for international students who are planning to study in Canada. Although Canadian borders have reopened for international students since late 2020, there are safety measures in place and need to be followed to be allowed entry to the country.
With the Omicron variant in the global scene, we are seeing an exponential increase of Covid-19 cases yet again since 2020. Countries are implementing layers of travel restrictions to control the inflow and outflow of people. Travel abroad is being limited again. Study and work in other countries are yet again being put on hold.
The Government of Canada has also updated its travel guidelines for international students who are planning to study in Canada. Although Canadian borders have reopened for international students since late 2020, there are safety measures in place and need to be followed to be allowed entry to the country. Aside from properly securing your travel documents as an international student to Canada such as a valid study visa and passport, you must be eligible or exempted from the current travel restrictions to be allowed to study in Canada.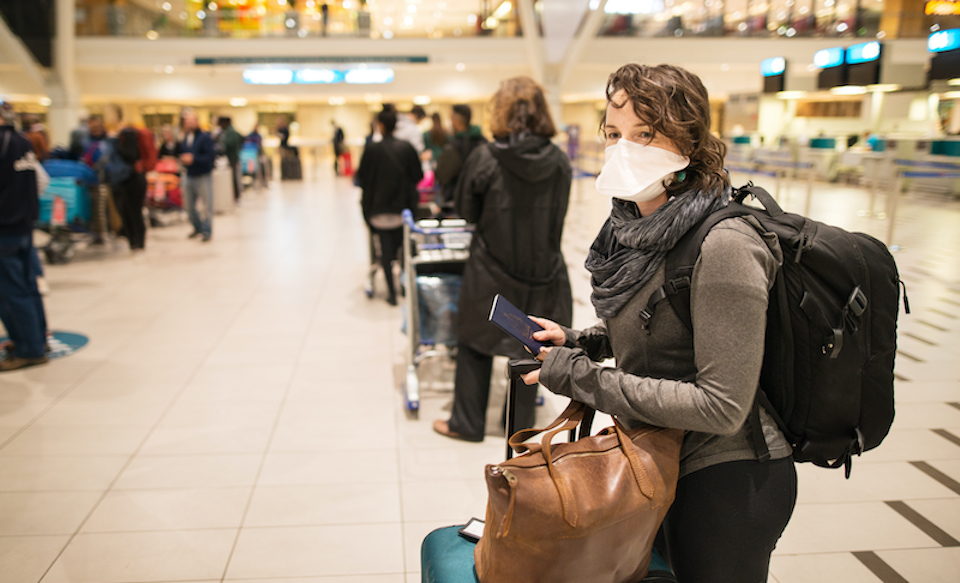 The following are the requirements for international students in place as of January 11, 2022:
Must attend an approved DLI school
International Students must attend an approved Designated Learning Institution (DLI) to be allowed to study in Canada given the Covid-19 situation. If your school is not listed in the approved DLI list with the Covid-19 readiness plan, you will not be allowed to enter Canada or be refused to board your flight. The DLI schools were required by the government to have a readiness plan requiring a 14-day quarantine laying out details on how they will manage students' health and safety including transporting students to quarantine facilities if needed.
Must have no symptoms of Covid-19
International students who are categorized as foreign nationals will not be allowed to enter or study in Canada if they show any symptoms. Symptomatic students will not be allowed to travel abroad for the next two weeks.
Must be fully vaccinated
International Students or anyone planning to travel abroad at the moment is required to show proof of full vaccination in English or with a certified translation in English or French for proof of vaccination that is not in English or French. Students need to have at least two doses of accepted vaccine for travel, two vaccines some different accepted vaccine brands, or one dose of Janssen/Johnson & Johnson. The last dose should have been received by the student 15 days prior to the day of your travel.
Here are the accepted brands of vaccines for travel:Pfizer-BioNTech
Janssen/Johnson & Johnson
AstraZeneca/COVISHIELD
Moderna
Sinovac
Sinopharm BIBP
Bharat Biotech
Must adhere to pre-travel testing
Students and individuals above five years old are required to provide proof of negative Covid-19 molecular test results. The test must be taken and shown to be valid within 72 hours of your departure time to Canada or the last departure time if you have a connecting flight. Note that Rapid Antigent Tests are NOT accepted tests. To know more about the accepted tests, click here.
Effective January 15, 2022, if you have had Covid-19 before and had fully recovered, proof of a PREVIOUS positive test of at least 10 days until 180 days covering the dates of your departure time and arrival time in Canada. Further tests may be required from the students upon arrival depending on the assessment of border services officers upon arrival in Canada.
International students and others who intend to travel abroad are advised that airlines may refuse to board passengers who are unable to provide valid and acceptable proof of the negative Covid-19 test.
Register in ArriveCan mobile application or web account
You will be required to enter your travel documents, quarantine plan, and proof of vaccination in the mobile app. The application is mandatory. To download and to know how to use the application, click here.
Register for randomized arrival testing
Border services officers conduct randomized arrival tests which include fully vaccinated international students. Click this link to view the laboratories for your assigned arrival airport. Don't forget to use the same email address as you have used in the ArriveCan app.
Must have a 14-day quarantine plan even if fully vaccinated
To study in Canada, international students are required to have a 14-day quarantine plan until the test showing negative results is released or the completion of the 14-day quarantine. Students who are not selected on the randomized testing may need not undergo quarantine. To give you an idea if your quarantine plan is sufficient, use this assessment.
For complete information on quarantine, unvaccinated individuals, and exemptions, click here.
Answer phone calls from the Government of Canada
While in quarantine and waiting for your test results, there will be compliance calls made by the Government of Canada to ensure that you are following the quarantine guidelines and that you have not developed any symptoms.What if I am unvaccinated? Will I no longer be allowed to study in Canada?
Unvaccinated students planning to study in Canada will be required to undergo mandatory Covid-19 testing and quarantine for 14 days without symptoms.What happens if I test positive?
If you've tested positive upon your arrival to Canada or on your eighth day, you will be required to isolate for additional 10 days from the date the test was taken. If border officers find your quarantine plan to be inadequate, you will have to isolate in a federal quarantine facility.
For further guidelines in mandatory isolation, click here.
NOTICE: New updates on Covid-19 protocols and border guidelines may change anytime. Keep up to date by checking the latest information on the Government of Canada's website.
With the unprecedented circumstance the world is facing now with the of Covid-19 cases hitting all-time-high figures, it is important that international students intending to study in Canada in 2022 be fully aware, be safe, and take all the necessary precautions to not be infected and prevent delays or unnecessary days in isolation.
Planning to study in Canada can be overwhelming for international students. No need to fret, Global Study Guide can help you through the whole process from finding the right school to the whole application process to study abroad. Register now for a FREE account to connect to our education consultants for us to guide you in this journey!
New
More
Typical School
More