The 7 common stereotypes that you should know about studying in Canada
There may be lots of stories you have encountered on the internet about the lives of international students who are studying in Canada. For sure, the majority of those showcase how beautiful the country is, how cool the cityscape is, or how huge the university is. These kinds of stories shared online specifically in social media builds into several stereotypes of studying in Canada.
There may be lots of stories you have encountered on the internet about the lives of international students who are studying in Canada. For sure, the majority of those showcase how beautiful the country is, how cool the cityscape is, or how huge the university is. These kinds of stories shared online specifically in social media builds into several stereotypes of studying in Canada.
Here are our seven takes on these stereotypes:
1. All international students are wealthy or come from wealthy families.
It is a fact that studying in Canada entails a lot of expenses especially for international students whose tuition fees are doubled compared to the domestic rate. It is easy to assume that these students must be well off to afford this kind of education.
This is 100% stereotype.
Not all who come to study in Canada are from wealthy or influential families. Some international students have just enough to fund their education and will need to do part-time work while studying to support their living expenses and tuition fees.
Since Canada allows 20 hours of off-campus weekly work for international students, it is quite common to see students doing a study-and-work arrangement while they study in Canada. This actually allows other students to pursue or jumpstart their studies in Canada.
2. It's all about partying.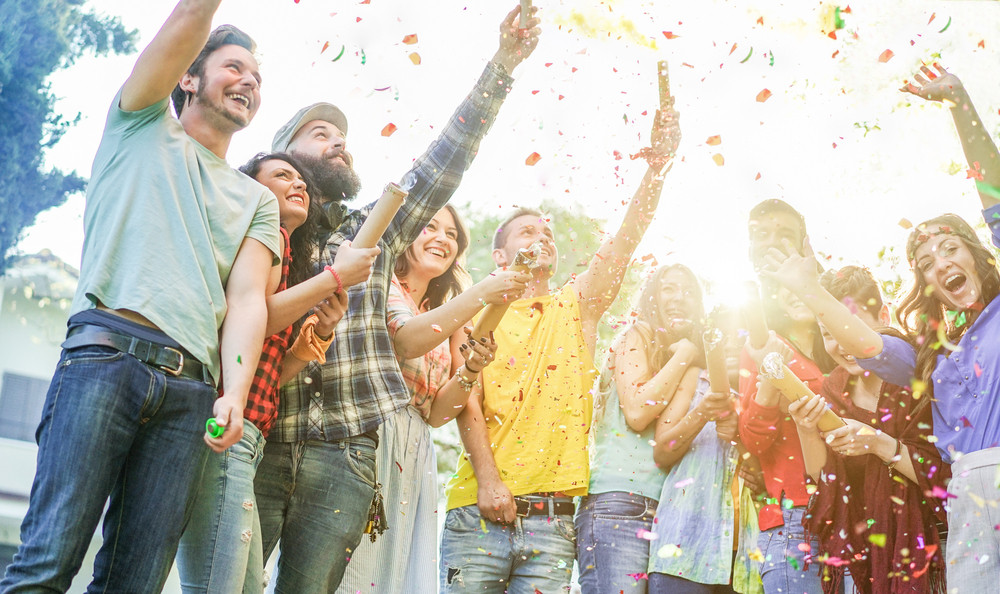 Another stereotype of international students in Canada or North America is that they're always partying. In contrary to what is depicted in the usual Hollywood movies where students often go on house parties and out-of-town trips for spring break, it is not a common scene that you see in Canada.
It may be attributed to the laid-back lifestyle of Canadians. Nonetheless, there are still parties off-campus that are done privately but not as how it is depicted in the movies. Rowdiness is never a common scene you generally see in Canadian universities and communities alike.
What you may find common to see would be small gatherings of international students over a picnic, hanging out by the lakes, camping, hiking, or doing something outdoors. Being surrounded by nature that some international students may find and experience only here in Canada, exploring nature is quite a famous activity for most students.
3. International students have it easy.
Quite related to the items above, international students who study in Canada are thought of having it easy with everything. With the preconception that they come from rich families, they are often thought of as having everything easy in life – and that includes their studies.
Regardless of the financial status of students, they all must put in time and effort into their studies to be able to pass their courses and eventually complete their programs. There is no special treatment given by professors to international students. Inside the classroom, all of them are just students and are treated equally.
Canadian programs are competitive. The country is known to be one of the world's education-destination. Educational institutions are accountable for upholding the quality of education that the country is known for globally. This means that regardless of which institution you decide to study in Canada, the results will be fruitful, but the journey will definitely not be a walk in the park.
4. Everyone in Canada is friendly and laid-back - including your professors.
This is a positive stereotype that most students in Canada would agree on. A lot of professors share the same culture and vibe as most Canadians have and project. Most educators are polite, professional, and respectful of their students as well.
Although these are all good traits, those who intend to study in Canada need to understand that these traits do not equate to leniency. A lot of instructors and professors have pleasant personalities but should never be mistaken to be abused or crossed professionally. As educators, they have the obligation to ensure that students learn from their class. It is important to note that some professors, although may seem friendly and laid-back, may be strict and may enforce rules to class especially when it comes to delivery of requirements.
5. Canada has low-cost tuition.
Some Canadian institutions offer lower tuition fees compared to their competitors worldwide, more particularly in North America. This point gives Canada a bit of an advantage over other countries for attracting international students to come and study in Canada. However, it is not right to think that all Canadian institutions offer lower costs in tuition compared to the rest of the world.
Compared to other countries worldwide, Canada could still come up as one of the countries with expensive costs for education for international students. However, if to be compared only to its close competitors such as the United States, Australia, New Zealand, and the United Kingdom, the favor may be given to studying in Canada when it comes to being less costly.
International students need to be aware that the cost of living and the cost of tuition in highly progressive countries such as Canada will always have a huge gap if to be compared to other nations of different economic positions.
6. There is sure employment after graduation.
A lot of testimonies might be present over the web showing that Canada offers a lot of opportunities to all. There is truth to that, but not completely accurate.
After investing your money, time, effort, and even health to complete your studies, your goal is to get into the job market and practice what you have learned in the university. Unfortunately, the reality is not everyone has this kind of edge. As with other job markets in the world, Canada's job market is thriving. However, a lot of students' expectations are crushed when they are not able to get into a related job to what they finished in school. One thing that a lot of students are not accounting into the equation is experience.
Some international students have gained relevant work experience back in their home country which could be useful when they seek employment in Canada. That gives them a competitive advantage over other students who have graduated without any experience at all.
Another possible reason is the lack of relevant skills. Recent graduates need to have the relevant skills for the job to be accepted to it. This is where students who are working while studying in Canada have an advantage over others. Starting from smaller roles to gain these experiences and skills would be your building blocks to eventually gain the role where you could apply your university degree or diploma.
7. International students automatically become Permanen Residents after graduation.
This is the last yet the riskiest stereotype of studying in Canada. Some international students opted to study in Canada to lay the groundwork for Permanent Residency. It is a fact that the federal government gives weight to Canadian education in its infamous Express Entry point system. The provincial governments also have their respective immigration pathways designed for international students who graduate from the province's educational institutions. However, it is misleading to think that a student will be guaranteed a Permanent Resident status after completion of his program.
Permanent Residency has a lot of variables to take into account. These variables also depend on the province you are intending to apply for your residency in or where your educational institution resides. The immigration program you are going to use to achieve your permanent residency also dictates several requirements that you need to fulfill for you to become a permanent residency.
To clarify the stereotype, studying in Canada enables you to qualify for several immigration pathways that the government offers, but it is not a guarantee that you will become a permanent resident.
Do you have thoughts or questions on being an international student, or just curious about how to study in Canada? Talk to us! Global Study Guide can help you answer these questions and guide you through your student journey. Register for a FREE account now, and our education consultant will be happy to answer your questions.
New
More
Typical School
More